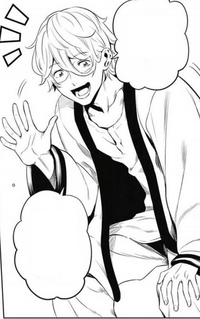 Naoi Yasukane is a resident at Kayane Manor. He, like his fellow roommates, is seeking to become a pro shōgi player.[1]
Appearance
Edit
Personality
Edit
Abilities
Edit
(To Takara Shinobu) "...Shinobu-chan, we're the same as you. Since long ago, prodigies have gone ahead, leaving us behind. We've cried countless times, "What more can we do than this?" There have also been days where we've wanted to abandon everything and disappear. Even so, we stand here, bloodied, because...we believe that "there is no such thing as unrewarded effort". ...So it's okay if it's not shōgi, we are comrades."[2]
References
Edit
↑

Mononofu Manga: Chapter 1, Page 13

↑

Mononofu Manga: Chapter 1, Pages 39-41
Ad blocker interference detected!
Wikia is a free-to-use site that makes money from advertising. We have a modified experience for viewers using ad blockers

Wikia is not accessible if you've made further modifications. Remove the custom ad blocker rule(s) and the page will load as expected.